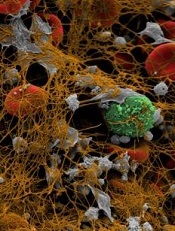 Thrombus
Image by Andre E.X. Brown
Results of a phase 1 study suggest the experimental agent PZ-128 provides rapid and reversible inhibition of platelet aggregation.
PZ-128 inhibited platelet aggregation in a cohort of patients who had vascular disease or multiple risk factors for coronary artery disease.
This effect was dose-dependent and diminished over time. The drug did not affect bleeding, coagulation, clinical chemistry, or ECG parameters.
Investigators reported these results in Arteriosclerosis, Thrombosis and Vascular Biology.
The team explained that PZ-128 is a protease-activated receptor-1 (PAR1)-based pepducin intended as an antiplatelet agent. Pepducins are membrane-tethered, cell-penetrating lipopeptides that target the cytoplasmic surface of their cognate receptor.
The current study is the first demonstration of pepducins' potential benefits in humans, said study author Athan Kuliopulos, MD, PhD, of Tufts Medical Center in Boston, Massachusetts.
He and his colleagues tested PZ-128 in 31 patients, ages 43 to 74. The patients had vascular disease (22%)—coronary artery disease, previous myocardial infarction, etc.—or multiple coronary artery disease risk factors—dyslipidemia (81%), hypertension (69%), diabetes (34%), etc.
Many of the patients were taking other medications at baseline, including blood pressure medications (66%), aspirin (63%), lipid-lowering medications (56%), and diabetes medications (22%).
The patients received PZ-128 by 1- to 2-hour-long intravenous infusion at doses ranging from 0.01 mg/kg to 2 mg/kg. The investigators evaluated patients at baseline and 0.5, 1, 2, 6, and 24 hours after dosing, as well as 7 to 10 days after dosing.
PZ-128 had a dose-dependent inhibitory effect on platelet aggregation stimulated by the PAR1 agonist SFLLRN (8 µmol/L). At 30 minutes to 6 hours after dosing, the investigators observed 20% to 40% inhibition with PZ-128 at 0.3 mg/kg, 40% to 60% inhibition at 0.5 mg/kg, and 80% to 100% inhibition at 1 to 2 mg/kg.
Patients who were receiving aspirin in the 0.5 mg/kg and 1 mg/kg dose cohorts had 65% to 100% inhibition of final aggregation to SFLLRN at 30 minutes to 2 hours after dosing and 95% to 100% inhibition by 6 hours.
The impact of PZ-128 was reversible, with 50% recovery of aggregation to SFLLRN by 24 hours and near-complete recovery by 192 hours.
The investigators said PZ-128 did not have any significant effects on aggregation induced by AYPGKF, ADP, or collagen, which suggests the observed effects were specific to PAR1.
Likewise, the team said PZ-128 did not have any significant effects on bleeding, coagulation, clinical chemistry, or ECG parameters.
The investigators noted that there are currently no drugs on the market that target PAR1 and can be used during procedures when the risk of serious complications is high.
The PAR1 inhibitor vorapaxar is available for non-acute use in patients with a prior myocardial infarction or current peripheral artery disease. But the drug, whose effects build slowly and are long-lasting, was not approved for use during cardiac procedures due to a risk of excessive bleeding, Dr Kuliopulos said.
By contrast, PZ-128 appears able to block PAR1 fast enough to be used in an urgent procedure and for a time short enough to limit bleeding risk afterward, he said. Of course, more research is needed to confirm this.
To that end, the investigators are planning a phase 2 study of PZ-128 in up to 600 patients who have acute coronary syndromes or are undergoing percutaneous coronary intervention.