Article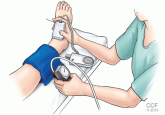 Author:

Esther S.H. Kim, MD, MPH
Keattiyoat Wattanakit, MD, MPH
Heather L. Gornik, MD, MHS
The authors seek to convince you to measure the ankle-brachial index in any patient you suspect may have peripheral artery disease, whether or not...
Article
Author:

Esther S.H. Kim, MD, MPH
Richard Krasuski, MD
Heather L. Gornik, MD, MHS
Her dyspnea started about 6 months ago and has recently worsened. What is the cause?