About GI & Hepatology News
GI & Hepatology News is the official newspaper of the AGA Institute.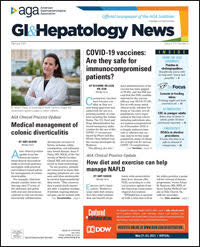 News you need—Nearly 17,000 gastroenterologists and hepatologists rely on GI & Hepatology News every month to cover the world of medicine with breaking news, on-site medical meeting coverage, and expert perspectives both in print and online. The official newspaper of the AGA Institute was launched in partnership with Frontline Medical Communications in January 2007. Our independent reporting focuses on impacting the way gastroenterologists practice medicine, and news from the AGA Institute keeps active members up-to-date on educational opportunities and policy initiatives.

GI & Hepatology News and GIHepNews.com are owned by Frontline Medical Communications.

Copyright Information
© Copyright 2023, by American Gastroenterological Association.

Disclaimer
The ideas and opinions expressed in GI & Hepatology News do not necessarily reflect those of the Association or the Publisher. American Gastroenterological Association and Frontline Medical Communications Inc. will not assume responsibility for damages, loss, or claims of any kind arising from or related to the information contained in this publication, including any claims related to the products, drugs, or services mentioned herein.

Staff
Kathy Scarbeck, MA; Director, News

Senior Editors
Jeff Evans
Catherine Hackett
Mark S. Lesney
Katie Lennon
Elizabeth Mechcatie
Lora McGlade
Richard Pizzi
Glenn Williams

Associate Editors
Lucas Franki
Gwendolyn B. Hall
Jane Locastro
Emily Welch

Reporters
Doug Brunk (San Diego)
Alex Otto (Seattle)
Mitchel L. Zoler (Philadelphia)

OPERATIONS
Rebecca Slebodnik, Print Production Director
Maria Aquino, Valerie Carver, Production Specialists
Kevin Shiraldi, Senior Digital Communications Specialist

Sunita Edwards, Manager, E-Production

Gaurav Kumar, James Owen, Digital Developers

Gbolahan Alabi, Kayla Lenhardt, Michael Sellers, Web Production Specialists
Louise A. Koenig, Creative Director
Elizabeth Byrne Lobdell, Design Supervisor
Tom Lore, Senior Designer

Advertising Offices
283 - 299 Market St.
(2 Gateway Building), 4th Floor
Newark, NJ 07102
Tel: 973-206-3434
Fax: 973-206-9378

Barbara Cavallaro, Audience Development Manager
Tel: 973-290-8253
E-mail: bcavallaro@mdedge.com

Address Changes
Fax change of address (with old mailing label) to 973-290-8245 or e-mail change to mdedge.customerservice@mdedge.com.

Licensing/Reprints/Eprints:
Call 240-221-2419


About Frontline Medical Communications Inc.

Frontline Medical Communications (Frontline) Clinical and Medical News divisions form the industry's largest medical communications company. Frontline serves more than 1.2 million physicians and other health care professionals with diverse print and interactive multimedia products and platforms, and live events. More than 30 enduring specialty journal brands offer a powerful synergy, including indexed, clinical, practical, and daily news-oriented content in Allergy, Cardiology, Dermatology, Emergency Medicine, Endocrinology/Diabetology, Family Medicine, Federal clinical medicine, Gastroenterology, Geriatrics, Internal Medicine, Neurology, Nurse Practitioners, Physician Assistants, Obstetrics/ Gynecology, Oncology/Hematology, Orthopedic Surgery, Pain Medicine, Pediatrics, Primary care, Psychiatry, Pulmonology, Rheumatology, General Surgery, Vascular Surgery, and Thoracic Surgery.

Frontline Medical Communications Inc. is headquartered at 7 Century Drive, Suite 302, Parsippany, NJ 07054-4609. Telephone: (973) 206-3434. For information:www.frontlinemedcom.com.

Last updated January 27, 2023.