Article
Author:

Isabella Anderson
Ethan T. Routt, MD
Shelbi C. Jim On, MD
Disseminated superficial actinic porokeratosis (DSAP) is a chronic condition characterized by numerous atrophic papules and patches with a...
Article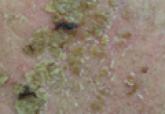 Author:

Shelbi C. Jim On, MD
Madelaine Haddican, MD
Alex Yaroshinsky, PhD
Ingenol mebutate gel is a topical field treatment of actinic keratosis (AK). One of several proposed mechanisms of action for ingenol mebutate is...