Article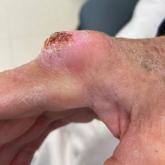 Author:

Julian Stashower, BA
Jack Lee, MD
Mary-Margaret B. Noland, MD
A 75-year-old man presented with a lesion on the knuckle of 5 months' duration. He reported that the lesion initially grew very quickly before...
Article
Author:

Jack Lee, MD
Kerrie M. Grunnet, MD
Richard H. Flowers, MD
Barrett J. Zlotoff, MD
Mary-Margaret B. Noland, MD
Jerome Goddard, PhD
Ticks are well-documented human parasites and vectors of infectious disease. The authors encourage providers to include larval tick infestation in...