Article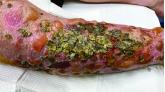 Author:

Elizabeth H. Cusick, MD
Lindsey Dolohanty, MD
Publish date:
July 9, 2020
Examination revealed well-demarcated, erythematous plaques with tense bullae and erosions limited to the left lower leg, ankle, and dorsal foot....
Article
Author:

Jason G. Mathis, MD
Glynis Scott, MD
Lindsey Dolohanty, MD
A healthy 23-year-old man presented for evaluation of an enlarging annular pruritic rash of 1.5 years' duration. Treatment with ciclopirox cream 0...