Article
Author:

Jeffrey C. Leggit, MD, CAQSM
Geoff McLeod, DO, CAQSM, Capt, USAF, MC
Which devices do—and don't—have evidence to support their use when it comes to injuries like carpal tunnel syndrome, "tennis elbow," or an ankle...
Article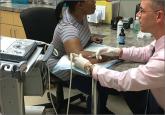 Author:

Carlton J. Covey, MD, FAAFP
Marvin H. Sineath Jr., MD, CAQSM
Joseph F. Penta, MD, CAQSM
Jeffrey C. Leggit, MD, CAQSM
Prolotherapy appears to be effective for Achilles tendinopathy and knee osteoarthritis, but has limited efficacy for low back pain. Find out when—...