Article
Author:

Janelle Robertson, MD
Jason Susong, MD
Emily B. Wong, MD
In 2002, the United States implemented a new program for smallpox vaccinations among military personnel using a live vaccinia virus product....
Article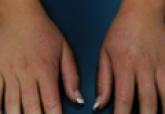 Author:

Jason Susong, MD
Scott Carrizales, MD
A 16-year-old adolescent girl was referred to the dermatology department for a possible lye burn. The patient's acne vulgaris was being treated...