Article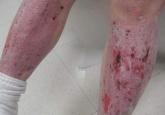 Author:

Jamie Rosen, BA
Angelo Landriscina, BA
Adam J. Friedman, MD
Fatigue, a substantial symptom of psoriasis, is triggered by complex interactions of inflammation in psoriatic disease, both directly via...
Article
Author:

Jamie Rosen, BA
Adam J. Friedman, MD
Acne vulgaris is a chronic inflammatory disease that affects the majority of the population at some point in their lifetime. It is characterized...