Article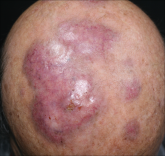 Author:

Ezgi Ozkur, MD
Mehmet Salih Gürel, MD
Ayşe Esra Koku Aksu, MD
Aslı Vefa Turgut Erdemir, MD
Cem Leblebici, MD
An 84-year-old man presented with gradually enlarging, asymptomatic, erythematous to violaceous plaques on the face and scalp of 11 years'...
Article
Author:

Sumeyre Seda Ertekin, MD
Mehmet Salih Gürel, MD
Aslı Vefa Turgut Erdemir, MD
Cem Leblebici, MD
Orf is a zoonotic infection caused by a parapoxvirus and is endemic in sheep and goats. It may be transmitted to humans by direct contact with...