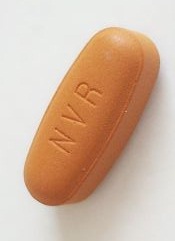 Imatinib tablet
SAN FRANCISCO—The longest duration study of imatinib treatment for patients with Ph+ CML shows 86% of patients are still alive 7 years after beginning therapy.
The International Randomized Interferon versus STI571 (IRIS) study revealed only 1 early chronic-phase patient progressed to a more advanced phase between years 6 and 7, Stephen O'Brien, MD, PhD, of Newcastle University in the UK, said at the 50th Annual Meeting of the American Society of Hematology.
IRIS is an open-label, phase 3 clinical trial enrolling 1106 newly diagnosed patients with chronic phase Ph+ CML in 177 centers across 16 countries. One group of 553 patients received imatinib 400 mg per day. Another group of 553 patients received a target dose of interferon (IFN) of 5 MIU/m2/day in combination with cytarabine at 20 mg/m2/day for 10 days each month.
Because of tolerability issues, lack of response, or loss of response, 65% of patients in the IFN/cytarabine arm crossed over to the imatinib arm. Only 3% of patients in the imatinib arm crossed over to the IFN/cytarabine arm.
A low rate of progression has been reported every year since this trial began in 2001. Seven percent of patients treated with imatinib progressed to advanced phases of CML after 7 years. Of the 456 patients (82%) who achieved a complete cytogenetic response, 17% lost their response and 3% progressed to advanced phases.
"After 1 year of treatment, there is a small risk of progression," Dr O'Brien said. "If patients achieve and maintain a complete cytogenetic response after 3 years, they are fairly safe."
Treatment with imatinib in the IRIS study was well tolerated, he said. No new serious adverse events occurred between the sixth and seventh year of treatment.
The results from the IRIS study also reveal that, by year 6, 85% to 90% of patients still taking imatinib achieved a major molecular response. This key milestone indicates a reduction in the abnormal protein responsible for the uncontrolled production of abnormal white blood cells and may be a sensitive predictor of long-term progression-free survival.
"There was a steady improvement in major molecular responses between 4 and 7 years of treatment," said Timothy Hughes, MD, of the Institute of Medical and Veterinary Science in Adelaide, Australia. "By 7 years, the vast majority of patients who achieved a complete cytogenetic response also achieved a major molecular response."
A major molecular response at any time point represents a "safe haven" for patients, Dr Hughes said. Both molecular and cytogenetic evaluations should be used to guide treatment decisions until a complete cytogenetic response is achieved, followed by measurements of molecular assessments.
"In this, the seventh year of the IRIS study, CML patients treated with imatinib continue to demonstrate impressive long-term survival," Dr O'Brien said. "Imatinib 400 mg daily is confirmed as the standard of care for the initial therapy of chronic-phase CML."
Imatinib, the first therapy to inhibit the activity of Bcr-Abl, revolutionized the treatment of Ph+ CML, Dr O'Brien said. Prior to imatinib, about 50% of patients with Ph+ CML progressed from the initial phase to more advanced stages after 3 to 5 years. Once patients reached the final blast crisis phase, survival was generally 3 to 6 months.