WASHINGTON – Combination lenvatinib and pembrolizumab shows promising clinical activity and a manageable safety profile in previously treated patients with confirmed, measurable, metastatic non–small cell lung cancer (NSCLC), according to interim findings from a phase 1b/2 study.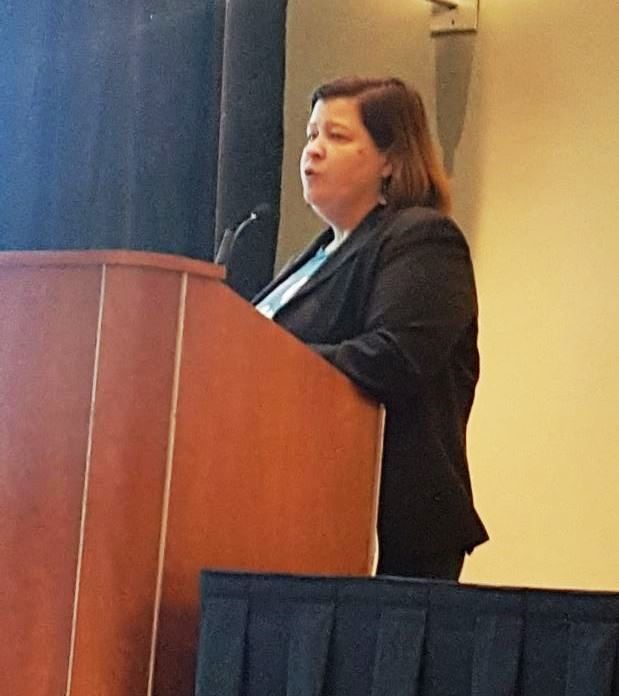 Sharon Worcester/MDedge News
Of note, the 21 patients enrolled in the multicenter, open-label study as of March 2018 were not preselected for programmed death-ligand 1 (PD-L1) tumor expression status, Marcia S. Brose, MD, reported at the annual meeting of the Society for the Immunotherapy of Cancer.
They were treated with 20 mg of oral lenvatinib daily and 200 mg of intravenous pembrolizumab every 3 weeks, and the overall response rate at 24 weeks – the primary endpoint of the study – was 33.3%, said Dr. Brose of Abramson Cancer Center of the University of Pennsylvania, Philadelphia.
One patient had a complete response, six had a partial response, 10 had stable disease, two progressed on treatment, and the outcome in two was unknown or not evaluable, for an overall clinical benefit rate of 66%, she said, adding that the median duration of response was 10.9 months and median progression-free survival (PFS) was 5.9 months.
All patients had good performance status (ECOG score of 0-1), and nine (43%) were PD-L1–positive as defined by a tumor proportion score of at least 1%, five (24%) were PD-L1-negative, and seven (33%) were not tested for PD-L1 status. Three (14%) were treatment naive, while seven (33%), 10 (48%), and one (5%) had received one, two, or three or more prior lines of systemic therapy, respectively. No prior nivolumab or pembrolizumab treatment was allowed.
"At least one of the patients who was PD-L1–negative remained on study after 40 weeks and still continuing to respond, and ... the PD-L1–positive patients were also doing well," Dr. Brose said.
Tumor assessments were performed by study investigators using immune-related Response Evaluation Criteria in Solid Tumors (irRECIST).
Grade 3 or greater treatment-related adverse events occurred in 10 patients (48%), and mainly included hypertension, fatigue, and diarrhea, but only four were considered serious treatment-related adverse events. Nineteen patients had treatment adjustments because of adverse events, four discontinued treatment due to adverse events, and one patient died from a pulmonary hemorrhage that was thought to possibly be treatment related, Dr. Brose said.
"The toxicity is really what you would have expected from either of these drugs on their own; it didn't seem like there was anything that happened in synergy from the two that was unexpected," she noted.
Lenvatinib is a multikinase inhibitor of vascular endothelial growth factor (VEGF) receptors 1-3, fibroblast growth factor receptors (FGFR) 1-4, platelet-derived growth factor receptor (PDGFR) alpha, and the RET and c-KIT proto-oncogenes. Pembrolizumab is an anti–PD-1 antibody approved as a monotherapy for previously treated patients with metastatic PD-L1–positive NSCLC, and it has been shown to be associated with an overall response rate of 18%, she explained.
The current results are from the NSCLC cohort of an ongoing trial of lenvatinib plus pembrolizumab in patients with solid tumors.
"Further investigation of this study drug combination in patients is warranted, but we will have to think carefully about what point in the treatment paradigm these patients should be treated in order to maximize the benefit from this combination therapy," she concluded.
Dr. Brose has received consulting fees, research grants, and honorarium from Eisai.
SOURCE: Brose M et al. SITC 2018, Abstract P392.